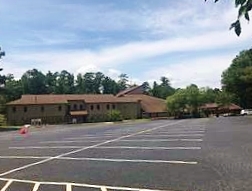 As you all know, for the past eleven weeks, the Dekalb County Board of Public Health has been using Kingswood's upper parking lot as a COVID-19 test site.  This past Saturday was their last day testing, and yesterday they removed the tents.  We praise God that we were able to accommodate them for so long.  Though we had a slow start, we surely ended with a great bang this past Saturday as the line snaked through the parking lot and all the way back down to the Tilly Mill intersection.  The above picture tells you where we are today.
Because of this, our pick-up and drop-off station is being moved back under the portico where you can drop off food for Backpack Buddies, your offering in the dropbox, pick up Upper Room devotional books, and pick up the bread and juice for this coming Sunday's Holy Communion.
I look forward to waving at you as you come by.
Charles