Save the date for the upcoming WOMEN'S RETREAT, February 7-9, 2020 at Pinnacle Retreat Center in Clayton, GA.
We are so pleased to welcome former Kingswood Associate Pastor Jenna Mobley Kennedy as our speaker for what is certain to be a great weekend of community and renewal.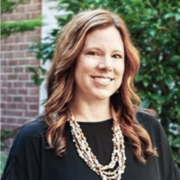 Jenna, currently serving as Executive Assistant and Mission Strategist at Action Ministries, is an Atlanta native, lifelong Methodist and graduate of Wofford College and the Candler School of Theology at Emory. In 2008, she was ordained a full connection deacon and, after serving several churches, is excited to return to her original call of working to help those in need through an agency like Action Ministries. Jenna enjoys cheering on the Georgia Bulldogs, playing tennis, and studying especially the interaction of art, theology and faith development. She and her husband, Patrick, have a 5-year old daughter.
More details to come.